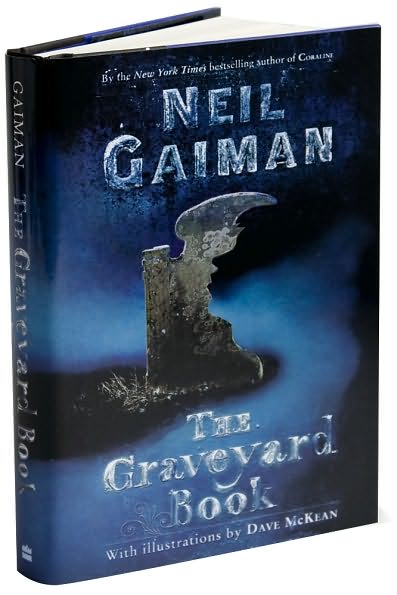 Stardust is still my favorite Gaiman book, but where it was once followed by Coraline, Graveyard Boy moved in as my second favorite. This is a cute Halloween read.
My first sip of Graveyard boy was in M is for Magic, a collection of short stories in which a chapter, The Witch's Headstone, makes an appearance. Loved it and wanted more.
Whereas Stardust touches something of the fanciful dreamer that hides deep in me that still longs to stretch its wings and soar, Graveyard is a slightly twisted dream come true. When I walk through a graveyard, I can't help but look at the names and dates on the headstones and wonder about the person buried there, their lives, wondering how they filled their days, what the highlights were and low points, the people they touched, did they make a small dent in their dreams before they were called away.
Is that what Graveyard Boy is about? No. It's the story of Nobody Owens, an orphaned infant that is taken in by a loving couple that happen to be dead and have a spot in the local graveyard. It follows his life being raised and taught by the denizens of the graveyard and the adventures he has in and out of the graveyard.
"Bod's left ankle was swollen and purple. Doctor Trefusis (1870-1936,
May He Wake to Glory
) inspected it and pronounced it merely sprained. Miss Lupescu returned from a journey to the chemist's with a tight ankle bandage, and Josiah Worthington, Bart., who had been buried with his ebony walking cane, insisted on lending it to Bod, who had too much fun leaning on the stick and pretending to be one hundred years old."
Page 96, The Graveyard Boy
This is a really wonderfully written story and I'm not just saying that because I love Gaiman's work. It's the sort of read that doesn't tie you down breathless with anticipation of what's going to happen next but you want to pick it up to read the next chapter and see what happens next in Bod's interesting life.
♥

Have added to my library.