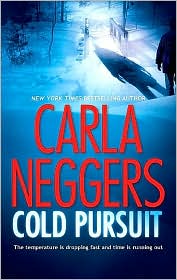 Back in her hometown of Black Falls, Vermont, to do damage control on her career, Secret Service Agent Jo Harper is drawn into the search. But her efforts face an unexpected challenge: Elijah Cameron.
With his military training and mountain rescue experience, no one knows the unforgiving terrain better than Elijah. But he and Jo have been at odds forever and Elijah believes the missing teenager isn t just lost she s on the run.
Forced to work together, Jo and Elijah battle time and the elements in a race into the unforgiving mountains. The twists and turns awaiting them will take them closer to the explosive truth and into the sights of a killer.
This was worth it. When I picked up Cold Dawn, I didn't think about the fact that it was the third in a series of Cold books. A few chapters in, I realized I was lost with all the characters. Now I know who everyone is.
The Black Fall series pretty much pairs up the remaining single siblings of the Cameron clan to their respective mates. Elijah, bad boy turned good, is the first to be tied down. Even as a ball-bustin' Secret Service agent, Jo had her soft side. They were well matched, seeing as how both knew how to handle their weapons. The romance aspect is fairly typical. Long-ago lovers meet up again and struggle with their feelings all while trying to solve a murder mystery. But as any true romance should end, they ultimately work out their differences and we assume will live happily ever after.
What I really liked was the way you see through all the major players' eyes, all adding their side of the story until it comes together in one dramatic chain of events. Other than the ringleader, the question isn't who done it, but how it will all play out. All the extra characters and their input made this great. You see Melanie's side as the accomplice of Kyle, the killer for hire. She was wonderfully delusional; thinking she controls Kyle even while she's getting on her knees. Grit was cool, together with Myrtle, it's a shame she's so old and he's so young. Oh, and Charlie, someone needs to put some parental controls on him!
So we're left with the question who is the mastermind of this killer-for-hire business. Moving on … Next: Cold River.