I have a Love/Hate relationship with series. I never pick up the first one because I have no patience to wait for installment 2, 3, 4... or, more likely than not, I would just forget to come back for more a year later. I mean do you have any idea how many books I can go through in a year? They're lucky if they can stay in my memory for a month. A year? Please. So many great books and authors, so little time. Anyway, I'm always looking for great series to power through (hint?) and can spend hours crawling and climbing the shelves at bookstores and libraries in search of something to satisfy my need.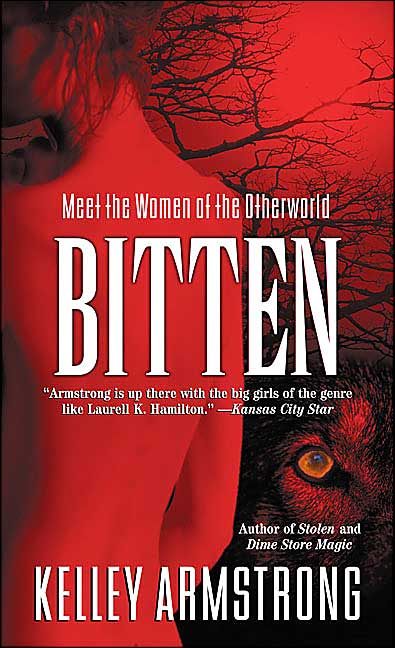 In comes Kelley Armstrong's

Women of the Otherworld. Oh, yeah. Did you know there are 10 of them?!?!? Yep, Frostbitten is No. 10. That was enough for me. Decision made, I started at the beginning and got Bitten and Stolen
at the same time
.
Verdict: I loved my first dip in the Women of the Underworld pool.
Okay, maybe I wasn't up all night devouring every word, and I may have taken time out to answer the phone and make dinner, but still great books. If you're into supernatural action-packed romances, this will work.

It's a well mixed drink, little sweet and sour with just the right twist of sarcasm. The dog-pack imagery is like the little umbrella in your drink; I personally can do without it and am more afraid it will put out an eye, but some people like them and think they're cute.
Now the dilemma: be a good girl and read 3, 4, 5 before 6 Broken, which continues with Elena's escapades, then 7, 8, and 9, before 10 Frostbitten, the continuing saga of Elena and Clayton's life ….or just go straight to 6 and 10?